Christmas occurs just before the turn of the year. The new year brings with it the opportunity to reinvent oneself, to become that person you wholeheartedly want to become, with all your own personal honesty. Christmas, in stark contrast is essentially the last blow out and the final moment of madness before the year of enlightenment we annually anticipate.
In addition to this, Christmas can bring a lot of out of the ordinary pressures, most of which we put upon ourselves. Combining this pressure with the expectation of a new you in January comes a number of regular falsities we feel the need to tell ourselves. I say "we" because I hope I'm not the only one.
1) I haven't spent enough on that gift

Budgeting is great, putting a limit on the amount you spend on a gift, but if the Irish Government can't stick to a budget then how the hell am I going to?! I find myself thinking if I stick to the budget and they go over will I look pure scab? If I go over and they don't will I look like I'm trying to be better than them and technically it's unfair? So many scenarios all of which bring you to the thinking that you need to re-mortgage the house for the Christmas gifts (re: my previous post about Unique Irishisms and the fear of being "mean").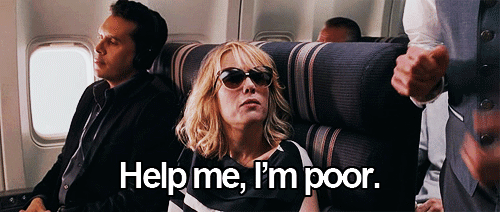 2) I'm not queuing at that bar again
It goes without saying that there will be a massive influx of lads and lassies home in search of festive fun, meaning the pubs will be full and you will be stuffed between a coat rack and a sweaty wall. This will cause logistical limitations for you getting to the bar. In turn you put a ceiling on the number of times you force yourself to the bar by getting sucked into a round of doubles and generally not your usual drink. Sure it's Christmas after all!
Image source : gouk.about.com & my own
3) I have loads of time
This one resonates particularly with me and my friends will vouch for it. I think it's actually a condition, feeling as though you have more time than you really have. This always leads to last minute panic shopping..."But I thought you liked hi-visibility jackets?I've definitely seen you wear one before!"
Image source: www.reddit.com
Anyway, no matter how much you try there's always a chance you'll get a gift for someone that they don't want....
Image source: www.memegenerator.com


4) It's not that cold
In general, winter in the northern hemisphere is quite cold and snowy. It's the time of year you get wrapped up with coats, scarves, hats and gloves. Ya, in theory that's great but having so many accessories to carry around we are bound to just loose them. So we tell ourselves it's not that cold.
Me : Honestly I'm grand!
Friend : Are ya sure because your nose would suggest otherwise.
Me: Is it a bit red, a bit Rudolf? haha
Friend: No, it's fallen off.
In fairness though this winter has been strangely mild and I've yet to wear my winter coat and the gloves have only gone on once....
Image source: instagram.com
5) I'm so full, never eating again
So much over indulgence, it's pure gluttony. It comes to a point where you eat so much it makes you contemplate your entire being and just as the food coma is about to ensue you hear a rustle and you see something colourful in your peripheral vision. Is that.... are they... Chocolate Kimberley?! Oooo my fave, give us wan.
Image source: www.foodireland.com
I hope that you've had a great Christmas 2015, still a few more days of celebrations so have fun! :)
Thanks for reading,
MOD :) x